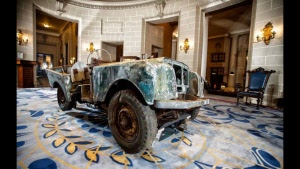 New home for LandRover #1 in the UK! Hopefully to be restored to running condition, keeping the patina!
We sell parts for REAL LAND ROVERS - that is, Series I Landies!
We live for Series 1's ! We even have a Series 2 with the series 1 engine, but that isn't a real Land Rover....
We Deliver Worldwide with low cost surface freight or fast Airmail,
click "buy now" to get a freight quote.
Money Back Guarantee on all parts
We will soon be closed for a Holiday -
7 August to 1st of September...
you can still place orders in this time but nothing will be processed till we get back....
Send your interesting land rover pictures to have them put on our front page!
Nano and Bitcoin also accepted,
20% discount for Nano payments!